The Start of Me and You
by Emery Lord
Genre
: YA Realistic Fiction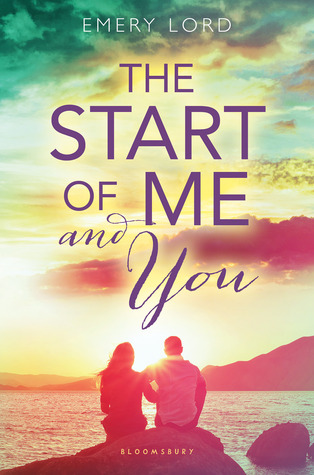 Blurb (on back of book)
:
It's been a year since it happened—when Paige Hancock's first boyfriend died in an accident. After shutting out the world for two years, Paige is finally ready for a second chance at high school . . . and she has a plan. First: Get her old crush, Ryan Chase, to date her—the perfect way to convince everyone she's back to normal. Next: Join a club—simple, it's high school after all. But when Ryan's sweet, nerdy cousin, Max, moves to town and recruits Paige for the Quiz Bowl team (of all things!) her perfect plan is thrown for a serious loop. Will Paige be able to face her fears and finally open herself up to the life she was meant to live?
MY OPINION
: ******
I loved this book so much.
At first, I was kind of skeptical because to be honest, some of Emery Lord's books haven't clicked with me. I have abandoned a couple but this one was to die for.
The ending is what really bumped up the grade.
As you know, it was rather rare for me to give six stars but as I'm reading more and more amazing novels, it's becoming a lot more common. Still, it is a pretty big accomplishment for me to give such a high rating (Kind of like teachers giving extra points).
Anyways, this book was about a girl named Paige, who honestly, I kind of forgot her name a lot, who has lost her boyfriend in a drowning accident and she hasn't been the same since. So she makes this list of goals to do to try to start a new life. One of them is to date her crush, Ryan Chase, who I thought was amazing and adorable but not really a good fit for Paige.
So she meets Ryan's cousin, Max, who is this REALLY nerdy, geeky kid. She starts to befriend him in order to get closer to Ryan. She joins the QuizBowl team, which is basically an academic decathlon team of smart people to answer questions and compete with other schools. Max, being Max, is on the team and they start to become closer and Paige realizes he's actually an incredible dude.
THEN THE ENDING HAPPENS AND WE REALIZE THAT MAX FOUND OUT ABOUT PAIGE'S ULTERIOR MOTIVES AND SHE HAS TO FIX EVERYTHING. Oh, and Max and Paige also got into a fight that was honestly not the best written but really powerful all the same. AND THEN WE GET MAX'S AMAZING QUOTE.
"I think I've loved you..." and I won't finish it because you need to go read it yourself.
So I completely loved this book and I also learned to love Max along the way. At first, I thought of him as annoying but he was so sweet and adorable and gorgeous and awesome and I loved him so much by the end.
Paige's friends were to die for. I wish that I had friends who were that close and nice... right now, I'm going through what we call "middle-school" drama and it's not so fun.
I would recommend this book to contemporary and romance lovers.
Main Character
: Paige
Sidekick(s)
: Max, Ryan, Tessa, Kayleigh, Morgan, etc
Villain(s)
: Life, death, etc
Realistic Fiction Elements
: This book was all very real to life, though I do wish some of the characters would just pop right off of the pages and join my life.