The Heir
by Kiera Cass
Genre
: YA Romance/Fantasy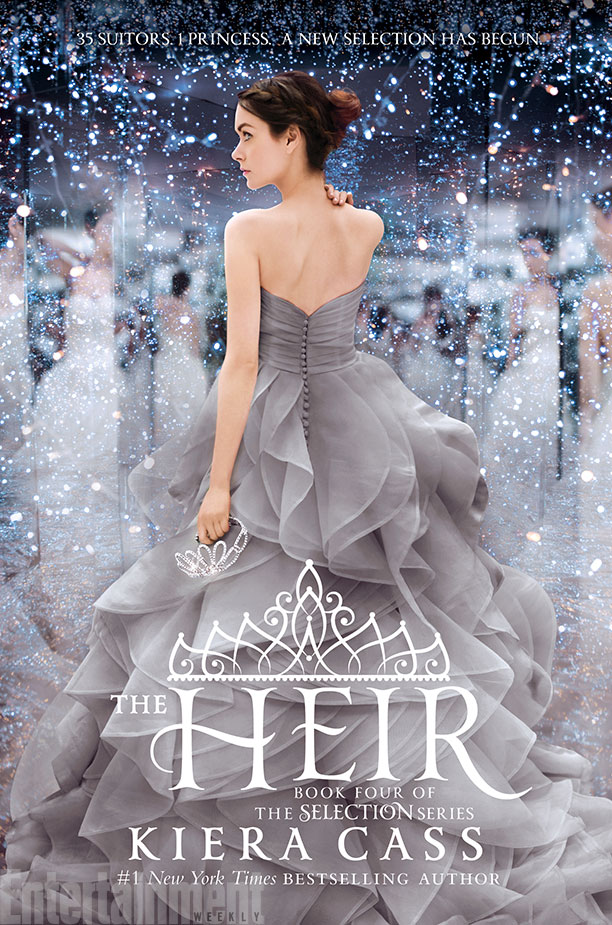 Blurb (on back of book)
:
Princess Eadlyn has grown up hearing endless stories about how her mother and father met. Twenty years ago, America Singer entered the Selection and won the heart of Prince Maxon—and they lived happily ever after. Eadlyn has always found their fairy-tale story romantic, but she has no interest in trying to repeat it. If it were up to her, she'd put off marriage for as long as possible.
But a princess's life is never entirely her own, and Eadlyn can't escape her very own Selection—no matter how fervently she protests.
Eadlyn doesn't expect
her
story to end in romance. But as the competition begins, one entry may just capture Eadlyn's heart, showing all of her possibilities that lie in front of her...and proving that finding her own happily ever after isn't as impossible as she's always thought.
MY OPINION
: *****
I have been reading so many
other
books while in the midst of this, that the beginning is a little bit blurry. Basically, Eadlyn has to forgo a Selection in order to draw the people in to her romantic life in order to take the people's attention away from the caste disappearance and government issues.
It has been such a joy to read this book after America's story, and be like, "Oh I remember her! And him! Oh, remember her?" It is really fun to spot characters that weren't as major in
The Selection
and remember.
Marlee has two kids, Josie and Kile. Kile's name is randomly drawn in the Selection. He has a rivalry with Eadlyn ever since they were kids, but soon they develop romantic interests with each other.
There are 35 more boys, and a lot of them have problems, either mentally or physically. One boy beats someone else up, and there are other such issues in the Selection. Eadlyn has to narrow it down to one, and it ends up with a few boys left.
This is one of the few books that was not predictable at all.
SPOILER ALERT
America gets a heart attack! How can this be? Her older sister also had a heart problem, and sadly passed away, so it apparently runs in the family. But America is America. I don't think that Kiera Cass will kill her off, because she still is a big character. After all, she is Eadlyn's mother! Also, America has to be strong and brave.
Eadlyn's parents, Maxon and America, hid stuff about their Selection from Eadlyn for whatever reason. Little by little, they tell her more and more, and soon she feels like she has been left out from their life a lot more than she thought.
I think that Eadlyn is going to end up with Kile or Eikko or Henri. I think that she probably will not end up with Henri, because of language and conversation issues. Is that the third time I used the word "issues"? Problems, then. Kile is her perfect match, and I feel like she actually will end up with them. Eikko, or Erik, could also be her soul mate, because he is a person that she can actually talk to and relate to.
KILE IS MY FAVORITE CHARACTER. I am rooting for him all the way. He is an amazing, brave, strong, and handsome guy, who wants to be an independent young man and lead an architectural life. Kile just wants to be himself, but his parents, Carter and Marlee, refuse to let him leave. They are his parents after all.
Lastly, Lucy ends up with Aspen, as we learned from
The One
, and I think that in
The Crown
, she is going to adopt a child. She has had many problems with children, both natural and adopted, so I think that since the author brought this topic up, something good is going to come out of it.
Eadlyn has a hard life. I really hope she chooses Kile or Eikko.
I would recommend this book to all romance and fantasy lovers, who like a little suspicion, and excitement, with spices of romance and action mixed in.
Main Character
: Eadlyn Schreave
Sidekick(s)
: Kile, Henri, Eikko, Fox, Gunner, Hale, Ean, America, Maxon, May, etc
Villain(s)
: The members of the Selection who did something to offend or hurt Eadlyn, etc
Romance/Fantasy Elements
: Lots of romantic interests. Also, unreal characters, unreal places.