26 Kisses
by Anna Michels
Genre
: YA Contemporary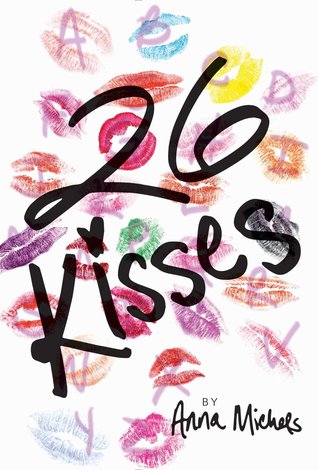 Blurb (on back of book)

:

Kasie West meets Morgan Matson in this hilarious and heartwarming debut about a girl's summer mission to get over her ex-boyfriend by kissing her way through the alphabet.

Getting dumped by her boyfriend is not how Veda p

lanned on starting her summer. When Mark makes it clear that it's over between them, Veda is heartbroken and humiliated—but, more importantly, she's inspired. So she sets out on the love quest of a lifetime: use the summer to forget about Mark, to move on, and move up. All she has to do is kiss twenty-six boys with twenty-six different names—one for each letter of the alphabet.

From the top of the Ferris wheel at her hometown carnival to the sandy dunes of Lake Michigan, Veda takes every opportunity she can to add kisses (and boys) to her list, and soon the break-up doesn't sting quite as much. But just when Veda thinks she has the whole kissing thing figured out, she meets someone who turns her world upside down.
MY OPINION

: *****

Yet another enjoyable contemporary summer read that I thoroughly enjoyed.

This book was basically all fluff and I loved it! I was randomly browsing through the Young Adult contemporary section of the library the other day, and I picked up about five books. This one definitely looked the most interesting and the shortest, so I decided to read it first.

The book is about a girl named Veda, a name I especially loved because it was original and gorgeous, and she has just suffered a break-up with her boyfriend, who she had been dating for two years. He was leaving for college and decided he didn't want to stay with his "high-school girlfriend."

Veda is, of course, heartbroken, and her two best friends seem to have seen each other in a new light and she is a little put out by everything in her life. She had been hanging with Mark, her ex, for so long and ditching Seth and Mel, her BFFs, that they had grown closer for those two years she wasn't there. The thing is, Seth had always had a crush on Veda and had told her so multiple times, but from what we could tell, those feelings were unrequited.

But now Seth seems to see Mel in the way he had seen Veda for so long, and Veda is a little upset. I think she just expected Seth to always love her, which I thought was quite selfish.

Mel also seems to be seeing Seth differently, but the problem is, she's never had a real boyfriend and instead relies on flirting, making out, and then leaving guys forever. Seth and Veda both know this, and Seth is a little put out and I think Veda felt a little relieved, secretly.

Now Veda needs to move on and figure out a way to forget about Mark. So Mel, trying to help, develops this plan where Veda has to kiss 26 guys, each one starting with one letter of the alphabet.

Along the way, Veda meets a new guy at work named Killian, who Mel has introduced to her. They become close friends, talking about everything and definitely relating to things that nobody else does. Killian doesn't go to the same school, and I kept hoping that he would transfer before the summer ended, but he never did :(

Also, I loved how original all of the characters' names were!

Veda still wants to finish the challenge...

Of course, Killian doesn't enjoy that, as he wants to be more than friends, and he hates how Veda doesn't care... but in the end, he decides to help her get the rest of the kisses so that she can end up with him.


I really enjoyed reading this book. I liked how Veda learned to go on with her life. I also loved how she got through the fact that everyone was talking about her kissing a bunch of random guys. HOW EMBARRASSING.

I couldn't help but feel bad for the guys that Veda basically led on, like Ian. He was so nice and he was popular as well, and I hate how she just dumped him after kissing him. Also, I can't remember the name, but I also felt the same way for the guy she went to the Dune carnival thing with, along with many other guys, like RYAN. That guy was just awesome.

I loved Kaylee, Veda's half-sister. Her dad remarried and I understand how she felt when her dad basically just left them. He always had a bad temper when he lived with them, but when she goes to their new mansion, he's always fine and good-tempered with his new wife.

Veda's little brother was kind of annoying, but I just loved his mini "romance" that was shown in the book.

This was basically a fairytale romance story all with the happily ever after.

Seth x Mel, Veda x Killian (OBVS), Mark x NOBODY :D


I would recommend this book to people who like contemporary romance and YA fluffy fiction. Also, I would recommend if you are looking for those quick summer reads :D

Main Character

: Veda

Sidekick(s)

: Killian, Mel, Seth, etc

Villain(s)

: Mark, heartbreak, rumors, etc

Contemporary Elements

: This book is all fluffy contemporary romance!