All the Bright Places
by Jennifer Niven
Genre
: YA Realistic Fiction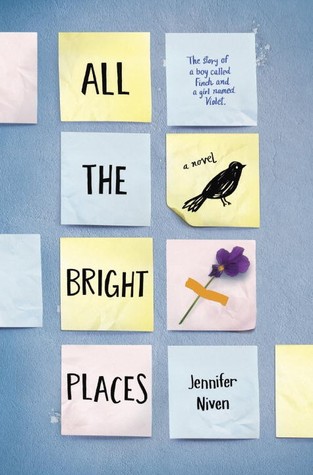 Blurb (on back of book)
:
The Fault in Our Stars meets Eleanor and Park in this exhilarating and heart-wrenching love story about a girl who learns to live from a boy who intends to die.
Soon to be a major motion picture starring Elle Fanning!
Theodore Finch is fascinated by death, and he constantly thinks of ways he might kill himself. But each time, something good, no matter how small, stops him.
Violet Markey lives for the future, counting the days until graduation, when she can escape her Indiana town and her aching grief in the wake of her sister's recent death.
When Finch and Violet meet on the ledge of the bell tower at school, it's unclear who saves whom. And when they pair up on a project to discover the "natural wonders" of their state, both Finch and Violet make more important discoveries: It's only with Violet that Finch can be himself—a weird, funny, live-out-loud guy who's not such a freak after all. And it's only with Finch that Violet can forget to count away the days and start living them. But as Violet's world grows, Finch's begins to shrink.
This is an intense, gripping novel perfect for fans of Jay Asher, Rainbow Rowell, John Green, Gayle Forman, and Jenny Downham from a talented new voice in YA, Jennifer Niven.

MY OPINION: ****

This was a pretty good book, and I can honestly say that I am excited for the movie!

2018! So far away!

Anyways, I liked this book, but I gave it a four stars because it wasn't particularly enthralling or gripping. I read this book with no interruptions, and no other books on the side, so...

I have to admit: I got a little bored at times.

There was a LOT of description and I honestly had no idea what the book was about until I literally got to the end. That's how long it took to actually get to the good part.

Basically, two suicidal kids meet each other standing a LEDGE (#weirdplacestofindtruelove), and the guy saves the girl. The girl is relatively popular and has a lot of friends, while the guy is "freak". Rumors spread with all of the facts mixed around: Violet, the girl, saved Finch, the guy, and not the other way around. Neither of them fix the mistake, which I thought was kind of stupid.

Finch develops a sort-of "crush" on Violet and volunteers to be her partner for this geography project to explore Indiana before everyone gets out of high school and leaves. Violet has been quiet and unnoticed since her sister died a year before, I believe, and she hates the attention. But she agrees to be Finch's partner.

The rest of the book is basically them on the trips seeing the sights and gradually falling in love. Honestly, I think that part took forever! Their romance was a little cheesy, though, and I honestly did not enjoy reading their Facebook chats. That kind of felt creepy, in a way.

SPOILER ALERT

Finch dies at the end. Did not see that one coming. I literally thought the whole book was going to be about this boy and this girl who both hate their lives meeting each other and FALLING IN LOVE. Not SUICIDE. God. I did not expect that at all, and it was a little bit mortifying to read about this boy.

Violet's last words to him. Sad, mean, but so cliche.

I don't really understand the title of this book. Honestly, this book would have been better titled something along the lines of "The Bottomless Lake". I don't know. I am not a great title creator, but you know, it could have been a little more clear. The title, the blurb, and this book itself did not reveal anything about what this book was really going to be about. Suicide.

I honestly don't think that that is a spoiler, since the book mainly focuses around the topic. Suicide. Not your typical love story.

Violet must feel so angry at Finch. Her sister did not even have a choice. Her life just got taken away. But suicidal people honestly do have a choice, despite what their brain is telling them. And she must have felt so angry, and then so guilty.

This book was a little rushed at times, but also a little slow. It's hard to explain. I have to say, it was pretty abstract, which was pretty fun.

I did not understand Finch's "disease" at all. Why did he fall asleep for so long and why didn't he sleep? So confusing, and it was never elaborated more.

I like the writing, and most of the plot, but it still wasn't the best.

Main Character: Violet, Finch
Sidekick(s): Parents, Kate, Decca, Amanda, Ryan, etc
Villain(s): Suicide, etc
Realistic Fiction Elements: Most of this was realistic.