Every Last Word
by Tamara Ireland Stone
Genre
: YA Realistic Fiction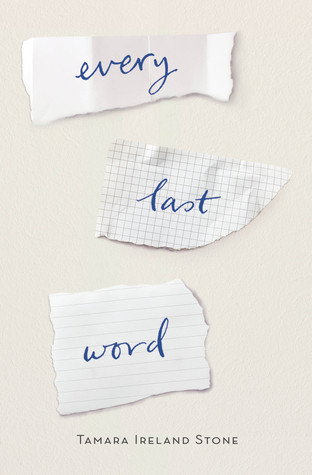 Blurb (on back of book)
:
if you could read my mind, you wouldn't be smiling
Samantha McAllister looks just like the rest of the popular girls in her junior class. But hidden beneath the straightened hair and expertly applied makeup is a secret that her friends would never understand: Sam has Purely-Obsessional OCD and is consumed by a stream of dark thoughts and worries that she can't turn off.
Second-guessing every move, thought, and word makes life a daily struggle, and it doesn't help that her lifelong friends will turn toxic at the first sign of a wrong outfit, wrong lunch, or wrong crush. Yet Sam knows she'd be
truly
crazy to leave the protection of the most popular girls in school. So when Sam meets Caroline, she has to keep her new friend with a refreshing sense of humor and no style a secret, right up there with Sam's weekly visits to her psychiatrist.
Caroline introduces Sam to Poet's Corner, a hidden room and a tight-knit group of misfits who have been ignored by the school at large. Sam is drawn to them immediately, especially a guitar-playing guy with a talent for verse, and starts to discover a whole new side of herself. Slowly, she begins to feel more "normal" than she ever has as part of the popular crowd...until she finds a reason to question her sanity and all she holds dear.
MY OPINION
: *****
I just want to say, before I start ranting, this book was INCREDIBLE.
There, I didn't use "amazing". Yet.
First...
I liked how this book was written in a perspective of a "popular girl". Normally, books are written in the view of the outsiders, or the wannabees. But this book gave it a whole new view.
One thing I don't get about Sam is this: Supposedly, the Crazy Eights have been friends since kindergarten. But I don't think that they were ever really close friends. Every page, Sam is forced to hide something, or they are mean to her, etc. I think that the fact that Sam was forced to hide her OCD for five years says something about their friendship. I feel like parts of their friendship might have been really forced.
If you don't already know, I took a stab at poetry on Goodreads, and it didn't turn out like I hoped it would. So here, before I write anything else, is my new poem...DO NOT JUDGE.
New view.
Different eyes.
Same person.
New tries.
Finding you.
Finding me.
Seeing me.
Forgetting three.
New people.
New ears.
New words.
New peers.
Be you.
Don't hide.
Behind your facade.
Of fake lies.
I don't know about this poem. It is definitely better than my Goodreads one, but I think it needs a little tweaking.
OK, now for the good stuff.
Sam is a great swimmer, and I think that the fact that she found a place to just let go was inspiring to people who suffer from OCD, or from a different diagnosis. I think that the author did a good job of portraying Sam's feelings when she is swimming and writing. When Sam writes, she feels normal and good.
Does anyone else love Sue? She seems so comforting and nice and helpful. She has a lot of patients and emotions to sort through, and the fact that she is careful with each one of them shows a great person and a wonderful character. I think that Sue was a perfect asset to Sam's solutions, and that Sue should be given more gratitude for her part.
Now, on to the ending!!! I really like talking about endings, because that is when the whole thing comes together. But alas, I must strike-through it...
SPOILER ALERT!!!
The ending was phenomenal and DEFINITELY UNEXPECTED!!!! I mean, Caroline wasn't REAL!!! How can that even be?
This book is still realistic fiction, but with a small twist. I like how the author used Caroline as a guide for Sam in this book. Caroline had a great role in this story, despite the fact that she isn't real! For me, that was SO unpredictable.
I hate how Sam underestimates herself. The fact that she imagined a person up leaves her to believe that she is crazy. She is then afraid to face her boyfriend. I mean, he is her boyfriend. He should be the person that she should confide everything in. He should be understanding. He is her boyfriend, after all, and I think that that should count for something.
I also hate the idea that Sam has been appearing to be talking to herself. I mean, what else can it look like to other people?
The last page brought back Caroline, but it didn't seem very real to me. I think that that was kind of the point: leave her behind and find yourself.
OK, done with spoilers. I hope.
The Poets' Club had a good meaning for the book. Sam goes there at lunch and she learns to let herself go and just be herself. She feels normal there, and has a good time. But she cannot let herself leave the Crazy Eights. I mean, she has new friends now, but I guess the fact that she has known them since kindergarten contributes to her stubbornness against leaving them. I understand that, but all they are doing is bringing her down.
Oh yes, for those of you who don't understand the line in my poem, "Forgetting three", Sam has this obsession with the number three. I like how the author showed her forgetting about it as AJ and her friends took over her priorities, and how Sue made her let go as much as she could. This must take a lot of strength, and I have to admit, I was proud of Sam. I know, I was proud of a book character, but Sam is VERY realistic. ;)
I was actually a little skeptical of reading this book because, well, because of the font. THAT IS THE WORST WAY TO JUDGE A BOOK, and I know that now, but I have this thing against big fonts, or certain type. I know that the book could be amazing, and most books that I go against my judgement with are, but it is just a pet peeve to read a book with book font, or widely spaced fonts, but I am so happy that someone finally recommended it. I picked it up, and I was lost for a couple of days.
I just want to say, I have been neglecting
The Host
, and I will probably not be finishing it this month, or maybe even next month, unless, I don't know, Winter Break? I am starting
Nerve
by Jeanne Ryan next, and I plan to read Tamara Ireland Stone's
Time Between Us
and
Time After Time
this month. I am actually going to be meeting her next week, so that is the main factor of reading this book, but I am so happy that I did. It was so good.
I would recommend this book to all YA readers and realistic fiction lovers. I would say older than sixth grade because there is profanity, and mild inappropriate material in this book, but nothing that a mature reader can't handle. This book features a lot of poetry too, but never fear if you don't like poetry: you will still enjoy
Every Last Word
.
Main Character
: Sam
Sidekick(s)
: AJ, Emily, Sydney, Caroline, Chelsea, Jessica, Cameron, Abigail, Olivia, Alexis, Kaitlyn, Hailey, etc
Villain(s)
: OCD?, misunderstandings, worries, etc
Realistic Fiction Elements
: All of this is possible, but it doesn't mean that it ever will.